Gilwell, Florida
July 1919 saw the birth of Wood Badge Training in Great Britain and that same year the first Scouter in the Transvaal completed Part 1 (Theoretical) of the Wood Badge. He was assistant district commissioner A. W. Marris. The following summer, 1920, while in England for the First World Jamboree, he went to Gilwell Park where he was put through a stiff course by Camp Chiefs Dane and Gidney, and was granted an Honourable Charge as Deputy Camp Chief on 16th August, 1920. Today Honourable Charges are known as Leader Trainers and Assistant Leader Trainers.
This was the first Honourable Charge in South Africa and the 31 st in the World.Unfortunately the Transvaal had no Training Centre and although courses were run for Patrol Leaders, no Scouters' courses could be held.
It seemed that nothing could be done, until one day District Commissioner L. M. Briggs and A. W. Marris visited a Y.M.C.A. Scout camp at Florida and whilst strolling around the plantation caught sight of an old dilapidated building – the old Government Mines Training School. They halted, drew a deep breath – smiled – and shouted together – "There's our Gilwell."
Soon all was hustle and bustle – a lease was obtained on the 1st July 1922 and the Transvaal Division took formal possession of "GILWELL, FLORIDA."
Gilwell Park, England and Gilwell, Florida – both accidentally found by keen Scouters, both to do so much for the great Brotherhood of Scouts.
There was so much to be done to put Gilwell shipshape. The jungle of weeds had to be cleared, paths made, repairs made to broken doors, windows etc., and a host of other items. The log book records:
"What a task! 12 doors to be fitted and 85 panes of glass, and there was no money!"
But the individual members of the Divisional Council – the members of the Team, Scouters from Troops and Packs, all dipped into their pockets and somehow it all began.
On 3rd July, 1922 the Braamfontein Troop started the good work by digging the holes for the front fence and they were closely followed by the Y.M.C.A. and 1st Central Methodist troops who did a grand job of work."
Official Opening
On 2nd September 1922 Sir William Hoy, then Commissioner for the Transvaal, officially opened Gilwell, Florida.
Amongst those who made this possible were J. H. F. Weber, Assistant Commissioner for Cubs, District Commissioners L. M. Briggs, D. Chenik, A. W. Marris, K. N. Fleischer and Scout Master Maxwell. The whole Movement turned out for the opening ceremony – scouters, cubs, scouts, girl guides and, of course, the mayor and councillors of Roodepoort-Maraisburg, as well as many friends. In those days Gilwell was in the "bundu," so the Florida Scouts acted as guides from the station.
The Log Book records:
"Scoutmaster Rev. Shelley invoked the blessing of God upon the work. Sir William cut the gold and green silk ribbons which barred the entrance, the band played the National Anthem, and the dream of years was an accomplished fact."
On this great day District Commissioner L. M. Briggs was invested as a Deputy Camp Chief and Messrs. Weber, Chenik and Fleischer received Certificates for Part 1 of the Wood Badge.
Training had begun.
In October 1922, District Commissioner B. A. Hart of the West Rand, who was in England on holiday, went to Gilwell Park and took a Training Course.
He was awarded an Honourable Charge dated 31 st October 1922.
First Wood Badge Course
The very first Wood Badge Course in South Africa was held at Gilwell, Florida over three weekends in April 1923. It consisted of one Patrol – the Woodpigeons.
Course Trainers:
B. A. Hart D/C/C and D/C West Rand
A. W. Marris D/C/C
L. M. Briggs D/C/C and D/C Johannesburg Central
Participants:
D. Chenik A/D/C West Rand
J. F. Hobbs H.Q. D/S/M
S. Barnes Florida
J. F. Burrell Krugersdorp
A. E. Gullan Germiston
G. Bacon Melville
R. Dent Krugersdorp
G. Sara JeppeIt is amusing to note that the Log Book records that two members of the Course got lost on the hike! This was to prove familiar in later Courses.The first Cub Wood Badge was held in August/September 1923. Twenty five Pack Scouters took the course and it was decided that they should all be known as Grey Wolves.So the years rolled by, and course followed course. The Team grew and a splendid band of Scouters have held Honourable Charges over the years.Yes, the Team changed with the years, but always there was continuity. Indeed Deputy Camp Chief L. M. Briggs was still active until he passed to higher service on 17th February 1955.It was only in 1945, after twenty-two· years of devoted service, that Deputy Camp Chief B. A. Hart, who led the Team so ably, laid down the reins. He was called to higher service in March 1956. Their memory and spirit still lingers in the quiet closes of Gilwell, Florida.
The Gilwell Team has had the following leaders:
D/C/C B. A. ("Daddy") Hart
D/C/C George Angus
D/C/C G. C. ("Gillies") Gillies Wilson
D/C/C Terry McNally
D/C/C Pierre van Ryneveld
D/C/C Jimmy Geddes
L/T Graham Granger
L/T Richard ("Chops") Stuart
To these men and to their assistants, Scouting owes a tremendous debt, so let us not forget the stalwarts of the past and the splendid work they have done.
The present day Gilwell has changed since that first day in 1922. Gilwell, Florida is no longer in the "bundu".
The old "slimes" dam has now been transformed into a beautiful stretch of water, with grassy banks lined with graceful willows and beds of tall reeds inhabited by countless flocks of wild birds. On a fine, windy day the white sails break out as the yachts scud across the rippling surface of the lake.
As the old building was reaching the end of its lifespan, in 1972 a decision was taken to build a new training centre. The modern Gilwell now nestles amid the beauty of the surroundings – the product of many hours spent by devoted Scouters. A lot of work has been put in by genuinely interested members under the guidance of the then-Divisional Commissioner John Simpson. This was completed at the end of 1974 and officially opened by the Chief Scout of S.A. Charles Martin in April 1975.
Beautiful lawns are where the old building stood and a commemorative plaque has been erected.
Gilwell Landmarks
Christ and the Scout –
This was carved for the original Gilwell by "Daddy" Hart and built into the new Group Room by Vie Robson.
Chapel –
Entrance gateway named after Frank Reiley who was the first President of the Transvaal Division. The alter bears a plaque to Nora Young, an Akela Leader who died suddenly whilst on the Team.
"Daddy Hart" Campfire Circle –
This scene of many memorable campfires was named after the original leader of the Team.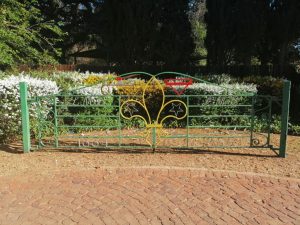 Entrance Gateway –
Named after Mr Leonard Briggs who was a co-founder of Gilwell.
Fraser Hut –
Named after lan Fraser, Scoutmaster of 1st Hillbrow/Berea troop, who were responsible for the construction of the Cabin.
George Angus store–
Named after George Angus, the second leader of the Training Team.
Gilwell Axe and Log –
This familiar Wood Badge Training symbol is situated on the front lawn.

Law Gateway –
The laws on this gateway were carved by Vic Robson, then a D/C/C. It has ten steps leading up to it, representing the ten Scout Laws.

Lecture Circle –
This was the original kitchen of the old, old Gilwell (hence the central drain) and was converted by camp Warden "Tiger" Hills to the present lecture circle. Each pole represents a compass point.
Mowgli's Cave –
This shelter was erected in Meecham's Gulch by "Meech" Meecham the warden, from materials donated by Cub Courses.

Shields –
By tradition each Wood Badge holder in the Transvaal is invited to make a shield depicting their scouting and other history and these are fixed to a special board in the Group Room.
Sycamore Tree –
Mr "Den" Denley brought a small sycamore plant from Gilwell Park and planted it on Gilwell's front lawn.
Gilwell Florida has had its share if important visitors during its history – H.R.H. The Prince of Wales, B.P. himself, Sir Alfred Pickford, John Thurman the Camp Chief of Gilwell Park, P. B. Neville, and many others, though most important of all have been the numerous Scouters, Scouts and Cubs who have camped there.
Yes, Gilwell, Florida can indeed be proud of its history and traditions, and the present days Team are eager to maintain the high standards of the past.
We are happy to see you here and wish you good camping under sunny skies.